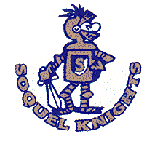 Doing research while libraries are closed
Databases
To access all of the databases we offer, go to our library's homepage at https://www.soquelhslibrary.net/ and click on

LIBRARY DATABASES

at the top middle of the page.
Click on the link to watch a short and informative screencast on using databases.
When you are on campus, many of the databases below are just a click away. When you are off campus you will need to have the login information for each database. Click here for login information.
To access

Gale Power Search

click

here. Click on the box that reads Gale Power Search. Type in our login information from the above link.

To access

Encyclopaedia Britannica click here

.

Type in our login

information

from the above link. An encyclopedia is often a good place to begin your research for background information on your topic.

To access our eight

ProQuest databases

click on this link and scroll down to the bottom of the page. Notice there are short summaries of the sort of information you can find from using each database. You will need to login with the information from the above list of logins.

Notice that

ProQuest

offers a

Citation Builder

inside the

ProQuest Research Companion.

Click on

ProQuest Research Companion

, then click on

Use Information.

When the drop-down menu opens, click on

Citation Builder

. The citation builder defaults to

MLA format

. From here choose the appropriate type of citation that you would like to create such as a book, magazine, etc. Remember to always check your citation to make sure it is correct before Copy/Pasting it into your Works Cited list.

The

Public Library

also offers many databases beyond what we can afford to provide to you. You will need a Public Library card to use all of the databases from the Public Library. Watch this short video (in Spanish) to learn how to get an online library card while the libraries are closed. Once you've gotten a Public Library card number, TAKE A PICTURE OF YOUR NUMBER OR WRITE IT DOWN. You will need the number to use the databases. Here's another short video from the Public Library on how to create on online account.mp4

Click

here

to access the Public Library's databases. The databases in this long alphabetical list are marked with a small star symbol You may be familiar with

EBSCOhost

but do check the list, there may be another database suited for your topic such as

World History in Context

or

U.S. History in Context

for an historical topic.
​
You may want to use

Google Advanced Search

. Sometimes adding a domain to your search such at edu or gov can lead you to reliable information that might not be readily available when using a standard Google search. Remember the more search terms you add, the fewer your results will be and the opposite is true--the fewer search terms, the more your results.
​
If you have questions or are feeling stuck please send me an email. I will try to help you with your research. Ms. Britton--madelinebritton@sccs.net