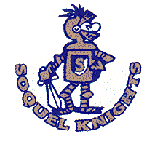 Violence/Bullying
Bullying
BAM! Body and Mind -- from the Center for Disease Control and Prevention
Bullying -- from the British Broadcasting Company
Bullying No Way! -- from Australia's educational communities
Bullying Info -- U.S. government website that helps you create, maintain, and strengthen effective youth programs. Included are youth facts, funding information, and tools to help you assess community assets, generate maps of local and federal resources, search for evidence-based youth programs, and keep up-to-date on the latest, youth-related news.
Violence/Domestic Violence
(Note: Victims of domestic violence who feel that their computer use is being monitored should be advised to seek information via a telephone hot line or a safe computer, such as one in a school or public library that cannot be accessed by the abuser. See below for postings of local and national domestic violence telephone numbers.)
American Bar Association Commission on Domestic Violence
National Domestic Violence Hotline
Office on Violence Against Women
Stop Abuse for Everyone

For help call the National Domestic Violence Hotline: 1-800-799-SAFE 1-800-787-3224 (TTY)
Suidcide Prevention: Santa Cruz--458-5300 Toll Free--1-877-663-5433
Youth Crisis Hotline: 1-800-448-4663